Valentines Day New Arrivals You'll Love!
February is the month of love and, trust us. You'll fall in love with how fabulous you look in our swimwear. From one piece to bikinis, our women's bathing suits are designed to make you look and feel better than ever before. Shop our wide assortment of new arrivals today. Valentine's Day is quickly approaching, and we've got the perfect swimsuits for your romantic getaway. Whether you're heading to a tropical island or enjoying a quiet night's stay at a local resort, you've come to the right place. There's no shortage of stylish plus size swimsuits here. When you shop with us, you're bound to find your dream suit. Swimdresses, tankinis, skirtinis, shortini, we've got it all.
The line features daring bikinis, swimsuits, one-pieces, and cover-ups made for confident women like yourself. With cup sizes ranging from D/DD up to G/H, this line is a must-have for sexy, curvy women everywhere. This swimwear collection showcases unique prints and intricate detailing that includes mesh, gold studs, lace, plunging necklines and so much more.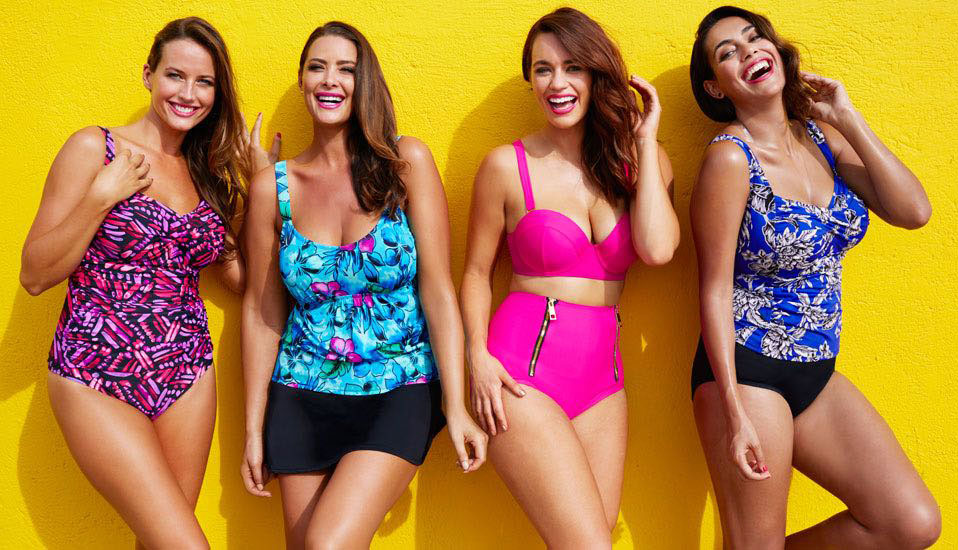 Don't worry. Our swimsuits aren't only fashionable, they're dependable, too. Our chlorine resistant swimwear is designed to withstand the typical wear and tear brought on by swimming in a pool. That's because these suits are made from specially designed fabrics that will preserve both color and shape. These chlorine resistant swimsuits won't fade or rip, even after wearing them hundreds of times. These bathing suits are a must-have for any aquatic fitness class, so get ready to jump in! We genuinely care about our customers. You're family to us. That's why we're dedicated to providing you with the best swimwear and service imaginable.